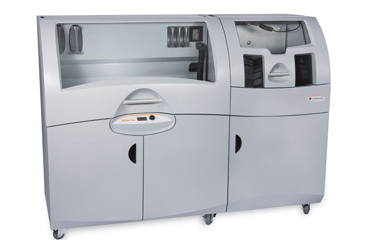 A 24 hour turnaround service with the latest in 3D print technology.
The fastest, most affordable, colour 3D Printing
Hobs 3D are the largest re-seller of 3D printers in the UK and provide access to the broadest range of 3D printer solutions available, with more than 40 different technologies and over 100 different material types.
If you can imagine it, we can help you 3D print it.
Our range includes:
Personal 3D Printers
Personal Printers that make 3D printing more accessible to you at home or in your school.
Professional 3D Printers
Professional Printers are ideal for producing conceptual models of your product design, either as a full-colour model with colour jet printing or functional tough parts with multi-jet 3D printing.
Production 3D Printers
Production printers enable you to produce smooth precision end-use products with technologies such as Stereolithography (SLA), selective laser sintering and metal sintering.
ZPrinters
ZPrinters set the standard for speed, colour, affordability and ease of use. The 3D printer of choice for architects and product/brand designers.
Get more models, sooner
5x-10x faster than all other technologies
Output multiple models in hours, not days
Build multiple models at the same time
Support an entire architectural department or classroom with ease
Colour to dramatically communicate design intent
Produce realistic colour models without paint
Better evaluate the look, feel, and style of product designs
3D print text labels, logos, design comments, or images directly onto models
Multiple print heads provide the best range of accurate and consistent Colours
Uniquely MultiColour – Full 24-bit colour, just like a 2D printer; produce 390 000 colours
High-definition models with complex geometries and small, detailed features
Save money, every day
One-fifth the cost of other technologies
Based on reliable, affordable inkjet technology
Unused materials are recycled for the next build, eliminating waste
Spend time generating ideas, not operating a 3D printer
Requires minimal training and expertise
Only ZPrinters perform most operations automatically
Automated setup, self-monitoring
Automated powder loading and recycling
Snap-in binder cartridges
Intuitive control panel for easy operation
Use in any standard office or school environment
Quiet, safe, odour free
Closed-loop powder loading, removal and recycling
Continuous negative pressure contains airborne particles within the machine
Eco-friendly, non-hazardous build material
Zero liquid waste
No physical support structures to remove with dangerous cutting tools or toxic chemicals
Noise-suppression technologies for quiet, intrusion-free operation
See Hobs3D.com for more details on all our 3D and digital services.
Also See:
CONTACT US