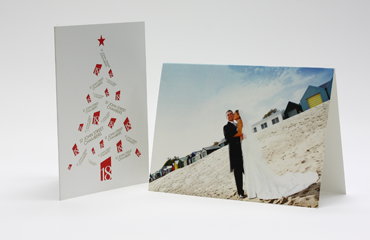 Cards are for life, not just for Christmas!
Cards are for life, not just for Christmas!
Send your customers a proper 'thank you' or a birthday wish to make them feel valued without looking pushy!
Special days and events like Christmas, New Year, birthdays, Easter and Mother's Day all present you with a fantastic opportunity to get your brand into the public consciousness, and spread a little goodwill in the process.
A company anniversary?  Let your customers celebrate with you.
Personalised Greeting Card Printing:
Our personalised greeting cards are all printed in full colour and we can create cards in almost any size, but A5 and A6 are standard sizes for the finished folded card.  Our cards are creased and supplied flat, or can be folded for you.
Blank envelopes are available too.  Traditional card envelopes are gummed but if you're posting a few you might want self-seal envelopes instead; just ask us!
Wedding Stationery
Our luxury papers are ideal for:
'save-the-date' cards printing
Wedding invitation printing
RSVP cards printing
Name cards and Table plans printing
'Thank you' card printing
If you're designing your own Wedding Stationery then check out our Frequently Asked Questions page on how to set-up and prepare your file for printing
Posting out your Cards?
We can take care of your mailing for you!  Whether it's mailing labels onto letters or personalised postcards, we offer a complete Direct Mailing Service.  Just ask us how we can save you time, effort and money!
CONTACT US