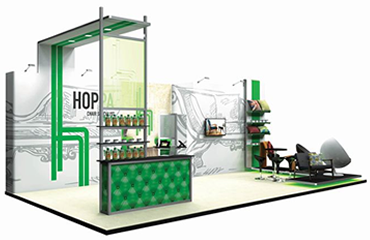 When you want your exhibition to be a success, Hobs comes through with flying colours!
Exhibitions are one of the best ways to showcase your company and its products.
Your stand will need to make an immediate impression and catch the attention of passers-by whilst at the same time stand apart from your competitors.
Our exhibition stands have the WOW factor.  We have a huge range of solutions for every size of exhibition space and many of our stands are modular so they can easily adapt to the next space or a change of focus.
Hobs have the flexibility and creative flair to provide you with the total solution. With the latest high-quality equipment at their fingertips, and our team of graphic designers and printers, we are ready to help you create your dream exhibit stand.
Everything you need to display your message
Graphics printing included
Existing displays and graphics renovated & refreshed
Leading edge colour management and digital imaging technology
Full build and dismantle service available
Exhibition stand sizes:
We can create your perfect exhibition stand whether the floor plan is under 9 square meters or over 30 square metres.
Our portfolio of services also includes:
To have a chat with one of our advisors or arrange a consultation, simply call your nearest Hobs branch.
CONTACT US