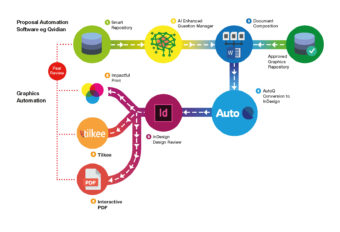 When bids and proposals are being prepared, the clock is always against the team! This invariably results in a last-minute, high-pressure environment for a business critical function. With the Hobs Bid Super System, we can help.
Proposal automation software helps companies win more business.
According to Qvidian's Proposal Automation Market Pulse report more than one-third of respondents said that their win rate has substantially improved since they've automated their process.
Good design can have a major impact on a client's first impression. Research has shown that good design increases your chances of winning by 30%. Launched in March, our Hobs Bid Super System brings together two market leading products and our own AutoQ solution. Our transformative solution gives designers back the time to design and bid managers back the time to craft a winning submission.
We have brought together two market leading products as well as our in-house AutoQ solution, to create the Bid Super System. The three core modules of the Bid Super System are:
Qvidian –  Our Engine – this has the AI knowledge base and a built in document builder that allows you to create proposals and documents with a few clicks of a button. Qvidian really comes alive now that we have launched.
AutoQ – transposing from Word to InDesign has always been a bottleneck – by Automating the workflow we can produce documents that previously took hours within minutes. The benefits to bid teams using Qvidian and AutoQ in sync are immense. Timescales are dramatically reduced, efficiencies enhanced and the quality of the documents produced increases. AutoQ quickly produces documents of 'annual report' quality that are 100% on-brand in just a matter of minutes.
Tilkee –  60% of proposals are never followed up on. As a digital platform Tilkee acts as the fly on the wall tracking every interaction with your proposal document once it has been sent. The platform allows analytics to be fed back to you, so you know what parts of your proposal are being read and also how long clients are spending on your documents.
For more information on the Hobs Bid Super System or for a live demo please contact dave.mccormack@hobs.com