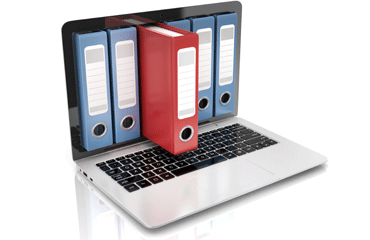 You don't need all those hard copy archives taking up room and becoming increasingly difficult to manage. Our digital archiving solutions will convert your documents to digital files at our state-of-the-art dedicated conversion facilities.
Your paper-based historical records can take up valuable office space.  Locating and replacing documents can be a very time consuming exercise; sections can be damaged or parts separated from other parts of documents.  Digital Archiving solves all these problems, and more!
If scanned properly, in most cases you don't need a hard copy; so digitise your records and liberate your space with digital archiving.  An added benefit is that digitally archived information is less vulnerable to loss and deterioration and vastly increases accessibility when you need to locate information from within a document.
Using dedicated high-end document scanners and our specially trained team, we can quickly convert your documents and records into digital files using strict compliance protocols.
Our archive scanning solution offers the capacity to scan a range of volumes, large and small, at our state-of-the-art dedicated conversion facilities.
How do Hobs create digital archives?
We take all of your archive (documents and records) in one collection for minimum fuss and transport it securely to one of our scanning facilities.
Using 'Logical Preparation' we manually sort through documents to reduce the scans required.  We remove staples and other bindings whilst ensuring the resulting files maintain the integrity of the original document.  The documents are then scanned to pdf format.
By using Optical Character Recognition (OCR) when scanning the actual words on the document are also recorded.  Using our advanced software to process the information means the words on the documents can be searched through electronically.  You can search within documents for information.
Any damaged pages can also be restored manually during the scanning process; we re-master and enhance them in Photoshop so any re-prints would be 'clean'.
What if I need access to files whilst they are being digitally archived?
Your legacy archives are a vital business resource.  Whilst scanning your archived documents we ensure you are always able to access the information you need.  We do this by providing an on-demand scanning service for any files you need urgent access to.
Our ability to convert in excess of 60 Million images per annum ensures that your project can be achieved in a timely fashion.  This speed means you get all the benefits of digital working  at the earliest opportunity.
How are my digital archive files accessed?
We create either a Website Archive or place the files on an external hard drive.  Website Archives give you the ability to view your scanned data via our secure, hosted document management software.
Are digital archives safe and legally compliant?
All the scanning procedures conformed to British Standards BIP0008, BIP0009, PD0010 – The legal admissibility and evidential weight of information stored electronically. This covers all electronically stored information under the Civil Evidence and Criminal Justice Acts and fulfils the requirements of Inland Revenue, Customs & Excise and Companies House.
Our working practices also conform to ISO9001 and ISO14001 and we can advise you on the latest legal compliance of documents and retention times.
Additionally, Digital Archiving helps with records management and document retention policies by readily identifying documents that can be securely destroyed, maintaining compliance standards dependant of the documents.
For more information visit the Hobs Exchange contact page or contact your local Hobs Repro branch.