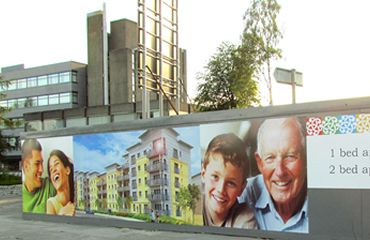 From on-demand one-off construction signs to nationwide signage re-branding, design and fulfilment, Hobs have the flexibility and creative flair to provide you with the total site hoarding and signage solution.
Say something BIG with External Printed Site Hoardings
Hobs are a specialist supplier to the AEC sector and Printed Building Site Hoardings, Printed Hoarding Panels, Site Boards and Site Signage are no exception!   In fact, we've designed, printed and installed Building Site Hoardings across the UK.
Organised in a matter of days following a survey or receipt of your site plan, we can manage your site hoarding project from start to finish:
Our Graphic Design team can perfectly brand your space
We can create photo-realistic visualisations from your 2D or 3D drawings
We print all our External Site Hoardings in house
Our own team will install the boards
Materials for Site Hoardings
We offer a wide range of materials that are suitable for differing applications. All our Site Advertising Hoardings are printed at photographic quality using the latest technology. We only use warranted materials to create site hoardings that are waterproof and won't fade.
Signage Projects and Installation
Here at Hobs we understand the importance of working quickly, quietly and effectively in busy environments.  As well as an incredible range of products suitable for every situation, Hobs is proud to offer a fantastic value-added service, which includes:
A specific design and project management team
Branding advice to facilitate communication with your stake holders
Service Level Agreements (SLA's) to cover maintenance and replacement for damage and graffiti
Work scheduled around you, causing minimum interruption
Curved and shaped signage
We have invested in the world leading flat-bed digital cutter/router. This precision tool, designed for the engineering sector, can cut, crease or route solid sheet substrates up to a maximum thickness of 20mm and is precise to +/- one micron over the entire 3.0 metre cutting bed.  With this incredibly precise and reliable technology you are no longer confined to straight edges, so let your imagination take shape!
Printed Site Signage
With the latest high-quality equipment at our fingertips, Hobs offer you the whole range of services for your Hoardings, signage and display graphics, from on-demand one-off signs to full site branding, design and fulfilment. We have the flexibility and creative flair to provide you with the total solution.
Hobs has the solution whether you need temporary or permanent signage, wall coverings, reception displays, and window graphics, to name a few.
Hobs signage solutions enable you too:
Enhance your environment in a cost-effective manner
Promote your brand in a professional and effective manner
Celebrate and communicate your achievements
Motivate your clients, guests, students, and colleagues
Organise and increase safety in your environment
For other options also see:
On-Demand (Quick) Signage
We have a number of options that can be used for signage.  The two main options are:
Foam Board (or Foam Core) is a very strong lightweight material used for mounting photos, artwork or anything else.  An inner layer of polystyrene is clad with white clay-coated paper.
Foamex (or PVC board) is rigid and lightweight.  This foamed PVC has a silky matt surface and is ideal for exhibition panels, high quality signage and wall mounts.
Educational Signage
We have been developing our understanding of the education sector since 1969.  More recently, we have developed particular expertise in working with Free Schools, Academies, Studio Schools, University Technical Colleges (UTC's) and Universities.
We understand the challenges and opportunities that come with being a newly established education provider or being in a new estate.
For temporary environments or decant situations we can help you make the most out of your interim space with bespoke modular solutions that you can even transfer to your new location.
We pride ourselves in offering a value-added service, which includes:
On-demand solutions for one-off events like exhibitions and banners to celebrate success
Work scheduled around your time-table, causing minimum interruption
An education specific project management team
Branding advice to facilitate communication with students, parents and other stake holders
Mentoring, placement and work opportunities to students
Service Level Agreements (SLA's) cover maintenance and replacement for damage and graffiti
Also see: