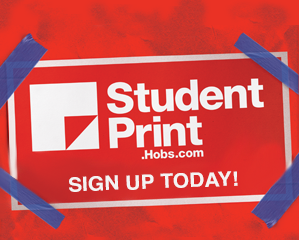 Great savings when you sign up to StudentPrint.Hobs.com!
By listening to your needs and advising on various problems, we've developed a student printing service that is essential to anyone wanting premium quality on a student budget.
If you're printing a dissertation, binding a thesis or promoting your event, then StudentPrint.Hobs.com can save you a ton of hassle.
SIGN UP TO STUDENTPRINT.HOBS.COM
Our student printing prices are only available when you buy through StudentPrint.Hobs.com.  By using this website you save us a bit of time, so we can pass the savings onto you!
Student Workshops
Look out for special student offers and workshops at the start of each college year. We talk to tutors in key departments – including architecture, civil and mechanical engineering, graphic design etc – and put together special-offer packages to meet your particular needs. For more information on workshops please contact your local Hobs branch.
StudentPrint.Hobs.com Terms and Conditions Apply:  StudentPrint.Hobs.com purchases must be validated with a valid Student NUS, University or College ID card.  Discounts may be changed or removed at any time without notice and your student card must be presented when collecting printed projects.  Discount is available off Hobs Repro printing and finishing services. Printing onto certain substrates/materials is not subject to a discount.  Other Services, such as 3D Printing and Laser Scanning, are not subject to a discount.  Student price lists show the price including this discount and additional discount is not available on these items.  Student discount is not available on already discounted lines.  Only one discount or special offer can be used at any one time.