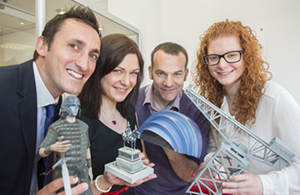 The last few months has seen a burst of activity when two new hobs Studios have opened in response to the rising demand from architects, engineers, product developers and media designers for 3D technology.
The last few months has seen a burst of activity as Hobs Studio has opened in both Bristol & Glasgow as a response to the rising demand from architects, engineers, product developers and media designers for 3D technology.
Firstly in May, Hobs Studio opened in central Bristol to serve clients in cities as far afield as Plymouth, Birmingham and Cardiff. Just one month later, Hobs Glasgow burst to life to serve clients across Scotland.  Both Hobs Studios are the first of their kind in these regions and uniquely bring together all the 3D services, including 3D Printing, 3D Laser Scanning and Photo-Realistic Visualisations plus Augmented Reality and Virtual Reality.
Hobs Chief Executive Kieran O'Brien said: 'What puts Hobs Studio in a league of its own is that no other company offers all these very relevant services under one roof.   The launch of our Hobs Studios will bring huge benefits to designers, architects and product developers who need 3D services in the South West or Scotland."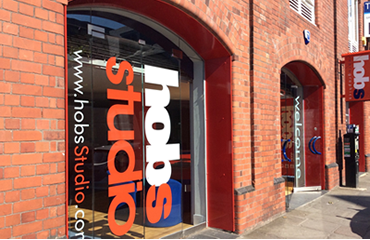 Hobs Studio Bristol
Michelle Greeff, Managing Director of Hobs Studios commented, "Hobs Studios were launched in London and Manchester in 2014 and in response to huge demand for 3D services we decided these locations were the perfect choice for the next Hobs Studios.  BIM (Building Information Modelling) is an innovative new way of working for Architects and the Construction Sector and our 3D services support its adoption.  More and more companies are seeing the huge potential and we're already showing that our 3D services will be at the heart of this revolution."
£600,000 has been invested over the two locations both in the premises and in new 3D equipment.  Each location now has a full (6-million) colour 3D printer, plus the latest 3D Laser Scanners which cut the scanning time in half.  3D design files can be printed and delivered in as little as 24 hours.
Both Hobs Studios have secured extra space next to the existing Hobs Reprographics offices in those cities.  Hobs Studio Bristol is 2,500 sq ft and located in Queen's Square, Bristol in King William House.  Hobs Studio Glasgow is in Woodlands Road, Glasgow, where Hobs is increasing its office space by 916 sq ft, with plans to increase its staff too, over the coming year.
There is clear synergy between Hobs Reprographics and Hobs Studio, as Stephen Lacey, Director of Hobs Reprographics Glasgow comments, 'We're looking forward to working closely with the Hobs Studio team and offering our clients the very latest 3D solutions to enhance their projects or bids even further, whilst saving them valuable time and money.  I'm delighted that Hobs Glasgow has been chosen for the creation of a 3D hub for Scotland.'
Brad Flook, Director of Hobs Reprographics Bristol comments, 'We already have lots of loyal clients working in Architecture, Construction, Design and Marketing throughout the South West of England.  We work with them closely to present or convey their plans and ideas in the best possible light.  With Hobs Studio, we can work across the whole timeline of a project from 3D Laser Scanning existing buildings or potential sites, right through to creating 3D models for marketing the finished property"
The existing Hobs Studios in London and Manchester continue to work flat out and will work in partnership with the new Bristol Studio to provide access to the widest range of 3D printers.