A booklet or brochure is the ideal way to combine your perfect text with your beautiful images to create a lasting reminder of your message.
Booklets & Brochures
We offer a limitless range of full-colour booklets or brochures which are all great value.  There are a huge range of paper weights (or thicknesses) and paper finishes to choose from to complement your artwork.  For maximum impact add a thicker cover or a special finish.
Just ask us if you're not sure which format is best for you or if you are looking for something different.  We'd love to work on your bespoke projects with you.
Key features of Booklets & Brochures
Available in a range of sizes
1/3rd A4 or DL (210mm x 99mm)
A5 (148.5mm x 210mm)
210x210mm square
A4 (297mm x 210mm) – now available in landscape
Binding options include saddle stitched, folded or perfect bound
Saddle stitched: 8-40 pages (divisible by four) – just like a magazine that is stitched along the spine – good for manuals, catalogues
Folded: 4,6 or 8 pages – good for menus, newsletters and information brochures
Perfect Bound: 20 to 240 pages – Edges of the paper are glued together and the cover added. The glued edge is hidden in the spine, just like a paper-back book.
Long-Edge Printing – A4 Landscape and multi-fold menus:
With our specialist long-edge printers we print onto both sides of sheets of paper up to 120cm long by 33cm high. This is bigger than laying five A4 pages side-by-side, and much longer than two A3 pages placed end-to-end.
This increased page size means multi-page A4 landscape booklets can be printed with brilliant resolution.
The possibilities for new designs don't stop there.  Combining the new large paper sizes with the Digital Creaser (for multiple scores and creases) it's easy to create any quantity of spectacular concertina-style booklets and multi-page fold out leaflets.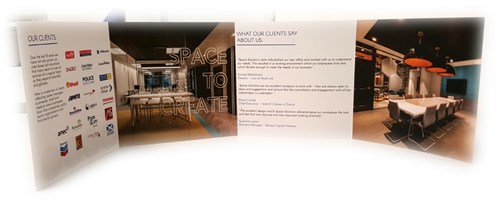 Contact Us