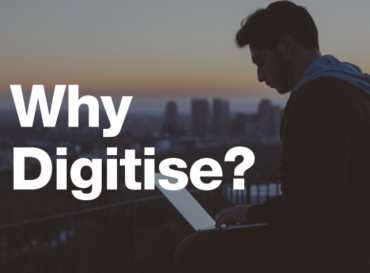 Explore how the process of digitisation allows businesses replace traditional paper-based processes with ones which are flexible, accessible and accurate.
Modern businesses are always seeking an advantage through innovative methods, but that doesn't mean it has to be complicated – usually the simplest option is the most efficient process.
So, let me ask you, when was the last time you audited your business processes? If you haven't recently audited your current procedures, it would be advisable to schedule an audit in the upcoming weeks. The longer you leave it, the more your business could be haemorrhaging!
Recently, many recognised institutions have publicly reported financial issues, with many stating they have been left behind by their competitors. On completion of an audit you will be able to discover and prioritise how to increase your business's efficiency. This will allow you to dissect each process whilst analysing how each process affects the business, resources and stakeholders from top to bottom. Auditing highlights an ambition for growth, and ensures your business won't become stagnant.
How can digitisation help your business?
The process of digitisation allows businesses to replace traditional paper-based processes with ones which are flexible, accessible and accurate.
With digitisation, you can free-up office space, increase document security and send/receive/access files securely worldwide. One 5GB memory stick can replace approximately 50 filing cabinets, potentially saving you money on leased office space, whilst allowing you to maximise existing space to its full capacity. Many companies have archives stored off-site which incur monthly costs, through digitising these physical archives, we can remove such fees.
Physical vs. Digital Documents
We frequently face the dilemma of whether it's better to use physical or digital documents. However, did you know that digital images of documents are just as legally admissible as physical ones? The storage of physical documents is not a legal requirement for any sector. Your legal representatives will be able to provide further clarification on this topic.
Physical documents are also statistically harder to manage within a business, than that of its digital counterpart. Through the digitisation of physical documents, you receive instant access to critical business information at the click of a button. This will in turn increase the productivity of employees – gone are the days where employees have to trawl through multiple physical documents.
Improved employee productivity will too in turn improve customer experience, which increases the possibility of repeat custom. In today's fast-paced modern age, we can benefit from instantaneous access to digital copies of contracts, documents, plans or even publications. With multi-user access to these digital archives, we can negate the time and money it would take to generate physical copies. For example, an international meeting can be arranged via video link, with all parties having instant access to any additional documentation which has been digitised. Sharing these documents digitally is ultimately more secure, faster and cost-effective than physically transporting potentially sensitive documentation. This subsequently allows businesses to increase revenue and profits whilst reducing overheads.
Saving Time & Keeping Secure
"Time is money" – it's a fundamental fact of business. You can recover the money you spend, but you can never recover time. Time spent manually processing invoices, copying or searching for physical documents is far from efficient. Digital document scanning and OCR allows information to be easily accessible, quickly validated and then imported into the business matrix, thus freeing up your employee's time to focus their efforts elsewhere.
Security, data protection and compliance are all essentially important to any business that store and transfer data. Data breaches can pose serious threats to businesses, with fines reaching up to 4% of turnover. Digitising your documents provides a secure way of storing duplicates. Once these documents are stored in a document management system, security access can be restricted at a user, or role level. Likewise editing, viewing or deleting privileges can be applied to specific users. This is especially important since the introduction of GDPR in May 2018 – digitisation is compliant with DPA and GDPR Subject Access Requests.
At Hobs Exchange, we specialise in high-volume document scanning, archiving and routing of mail, email and faxes via intelligent document management software.
For more information or if you want to arrange a meeting, please contact me at: exchange@hobs.com