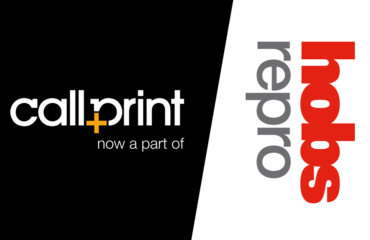 In joining forces, we will become the largest independent reprographics provider in the UK.
Today, we have acquired the Call Print Group, incorporating Premier Reprographics. Call Print are a well-established reprographics business operating across the country, and in combining forces, we will become the largest independent reprographics provider in the whole of the UK.
Call Print provide a wide variety of services across multiple sectors which include: reprographic services, bid innovations, luxury branding, as well as POS & retail solutions, which complements the current offerings across the Hobs Group.
Call Print Managing Director, Steve Cheek commented: "We are excited to join the Hobs family to form a powerhouse in the UK Reprographics market. Having built a healthy respect for each other in competition, we are now looking forward to a powerful collaboration. Our customers will welcome access to new services such as Indigo printing in central London, as well as an impressive range of 3D printing and visualisation services."
Phil Duffy, Administrator of Duff & Phelps, added: "We are pleased to announce that after a period of extensive marketing, the majority of the business of Call Print Group has been sold to Hobs Repro. It is a positive outcome for the Group, securing its future, and forging the market leader in the reprographics industry here in the UK."
The branch network will be gradually integrated under the Hobs Repro brand with the Call Print brand preserved for the managed services division. Together the businesses will have unparalleled UK coverage with 24 branches.
Craig Horwood, Managing Director of Hobs Repro, commented: "I am delighted to welcome the Call Print team into the Hobs Group. Together we will be much stronger and both sets of clients will benefit from new services that will be made available."