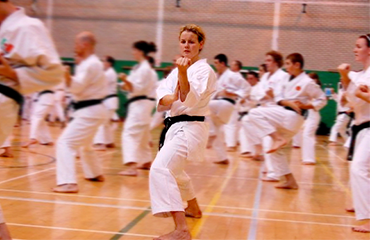 Did you know? Shotokan Karate takes its name from 'Shoto' mean "pine-waves" (the movement of pine needles when the wind blows through them) and 'kan' meaning "house" or "hall".
If you were asked to walk through the Hobs Head Office and guess who was a 2nd Dan Black Belt in Karate, it might take you a few guesses before you landed on Jade Fortune.  However, as soon as you speak to her you get an instant sense of calm, patience and focus; key attributes for Shotokan Karate.
Jade Fortune, who is based in Liverpool, is one of the management accountants whose role is to control and report on the finances of over twenty Hobs On-Site locations plus various parts of Hobs Repro.  Her monthly work rota includes creating the Profit and Loss accounts, creating the balance sheets and monitoring the fixed and variable assets.
At home, Jades schedule, is equally packed.  For over 12 years, every day involved either 'Kata' training moves or 'Kumite' sparring, mostly at the Red Triangle in Everton with renowned instructors Frank Brennan and Andy Sherry.
Surprisingly however, Jade didn't start her training until adulthood; even more unusual considering her mum is a 5th Dan Black Belt which takes a minimum of 15 years training to achieve.  Jade reminiscences "My mum is Bruce Lee mad.  She saw one of the films, fell in love and just started training.  Even the family dog was called 'Bruce'.  Despite my mum's best efforts, as a typical kid I just wanted to do anything other than Karate.  When I was 18 I was roped into helping out with a training camp.  Seeing everyone training together was so inspiring so I decided to finally give it a go.  I was instantly hooked!"
Jade now loves the sessions and she can't decide whether she prefers the training or the sparring side. "People think it's about hurting people, but it's controlled fighting and purely for self-defence.  It's all fun, great exercise and you always have something to work towards."
Jade worked her way onto the England Squad for a few years which meant committing to even more specialist training at weekends.  Her proudest moment though was gaining her Black Belt (1st Dan): "I had trained so much and I was so pleased with my performance.  Becoming a Black belt was such an honour"
Back in the office these skills are not lost. "Karate is about practice and perfecting each move.  Just like in all of your life there is always work to be done and everyone can always get better."