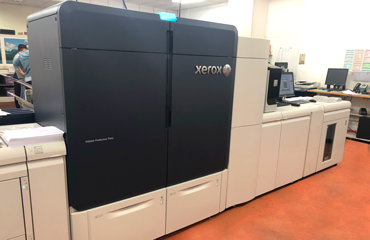 Hobs Repro install two of Xerox's Iridesse Production Presses
We are delighted to announce that we have become the first to install two of Xerox's Iridesse Production Presses – the most significant technological advancement in digital printing since the HP Indigo in 1993.
We have installed the CMYK++ digital presses at our 24h branch in Great Portland Street, London, as well as our Glasgow branch. The investment of these presses now gives customers a multitude of brand-new custom print effects. Set-up in layers, it has the unique ability to create an iridescent rainbow of metallic hues, mixed metallic (gold or silver), white and clear varnish in just one single pass. Printing at speeds of up to 3600 SRA3 images per hour, the installation will offer customers an unsurpassed quality; delivered at high speed.
Craig Horwood, Managing Director of Hobs Repro commented, "This significant investment is a great way to finish off this record breaking year for the business. We have made some significant investments this year for sustained growth: in scanning, wide format printing, digital services and the acquisition of the Callprint Group. The Iridesse platform allows us to deliver impactful finishes, including metallics, white and clear varnish all of which customers can't reproduce with CMYK printers."
In addition to their ultra HD-resolution printing capabilities, Iridesses are one of the most environmentally friendly digital presses on the market.  The amount of energy consumption, waste paper and chemicals is vastly lower compared to other models and the print produced is easily recyclable.