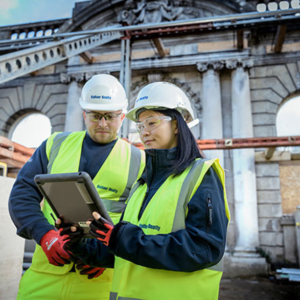 Balfour Beatty is a leading international infrastructure group, creating infrastructure, supporting communities and enabling growth.
Challenge
Balfour Beatty work in many different sectors throughout the UK and, like most businesses,  were presented with the challenge of how they would continue to operate their sites once the UK Government had announced lockdown – due to the worldwide spread of COVID-19.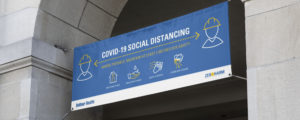 Key Challenges
To ensure Balfour Beatty sites were able to continue operating safely and efficiently during UK Government lockdown
To ensure the correct message is communicated to all construction site workers
Ensure that all sites around the UK could utilise a solution to order social distancing signage easily and swiftly whilst ensuring brand consistency and speedy deliveries to sites the UK
Solution
Discussions started on how Hobs could create a portal that would support Balfour Beatty's social distancing guidelines for all sites throughout the UK for their site signage needs.
Due to the mitigating circumstances meetings between Balfour Beatty and Hobs Repro took place predominantly via Zoom and Teams.
The most fitting solution was to allow all site managers to have access to an online portal where set designs could be chosen that best suited their site surroundings.
To make things easier for site managers, all elements of the portal would be locked down. For example; the material used, costs, delivery options and sizing. This would allow the site teams to quickly log on, order and continue with their working day without having to worry about anything other than installing the signage upon its arrival on site. The portal would also help to ensure brand and colour consistency.
The Result
Hobs W2P (Web2Print) team were introduced to the project and were given a 5 day deadline to create a fully functional, branded portal as agreed by Balfour Beatty for their sites around the UK, enabling them to log on and order their required signage.
Within 24 hours of launch, orders started to roll in. Over a 3-month period, the total order count for the site exceeded 200 orders. The portal will continue to help ensure the correct messaging across Balfour Beatty sites around the UK.
Following on from this successful launch of the W2P portal, Hobs and Balfour Beatty are now developing a W2P portal that will also support their marketing and bid teams throughout the UK with all variations of printed collateral. This will help improve efficiency even further throughout Balfour Beatty and strengthen the relationship between themselves and Hobs for years to come.
To find out more about our W2P solutions get in touch with our team here.