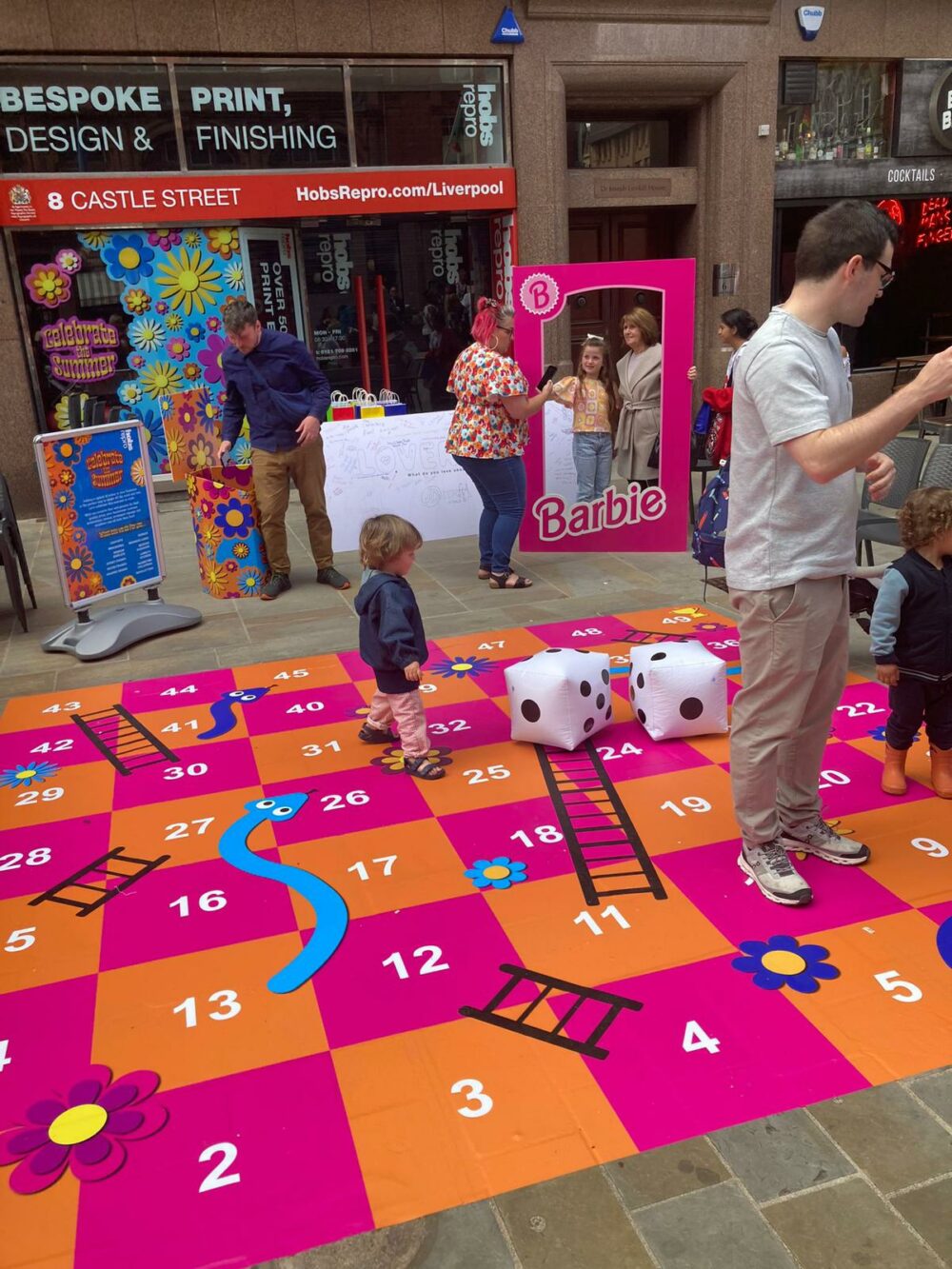 Our Liverpool team were delighted to have taken part in the 2023 Celebrate Castle Street Festival!
This August we were delighted to have joined in the Celebrating Castle Street Festival – especially as it was part of Liverpool's returning "Celebrating" city events since the pandemic! Following this 3 year break, Liverpool BID Company has proudly brought back these events to celebrate the incredible character of both Liverpool city and its residents, as well as showcasing local businesses.
Our Liverpool branch proudly sits at the top of Castle Street and we couldn't wait to kick off the festivities! As the festival was a family-friendly event, we wanted to showcase the fun side of Hobs and create some festival fun through innovative printing. We created a GIANT snakes and ladders floor vinyl (complete with huge dice and sweet prizes!) that was bright and inviting for everyone at our branch. We also had selfie frames for those who made it to the end of the game – lots of Barbies and Kens got their photos taken!
As well as colouring sets, cupcakes, sweets and toys for everyone who stopped by, we also had our "Loverpool" board. This was a bespoke designed forex board, that allowed everyone to write down and draw all of the things that they love about Liverpool. By the end of the Celebrating Castle Street Festival, we had seen hundreds of people over the day who stopped by and played our games, snapped some selfies, and added to our Loverpool board. We had a fantastic time and can't wait to be back again next year!
Check out our gallery below for photos of the day, and get in touch with our team if you have an event coming up that could be enhanced with some creative prints.