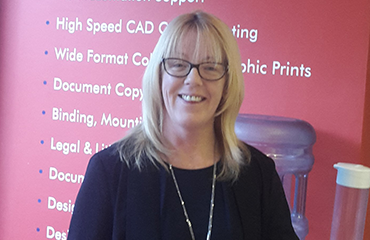 Michelle Haslam is the Business Manager of Hobs Liverpool & Chester.
Michelle Haslam is the Business Manager of Hobs Liverpool & Chester, which provides a complete Bid and Tendering support solutions, alongside a vast array of printing for all kinds of businesses. Michelle has, in her words "worked for Hobs since she stopped wearing school socks".
We stole a minute to ask her some quick fire questions –
What three words best describe you? Fun, Frank & Persistent
What's your job in a nutshell? Making sure both my branches run smoothly so our customers get the very best printing service every single time.
What's Hobs Liverpool in a nutshell?  We print, copy and design absolutely anything!  We are experts at creating something that little bit different or extra special, whether that be exotic menus for restaurants, creative display graphics or one-off boxes and folders for bid submissions.
What are you working on right now? We have an exciting project for some extra-large exhibition panels and another for some bespoke stands for Liverpool Football Club.  We are also creating some beautiful A3 landscape photo-books on our new long-edge printer.
You win a free holiday to anywhere you like – where would you go? I would love to go to Rio in Brazil and be part of their yearly carnival celebrations.  It looks so exciting, uplifting and so much fun!
If you knew it was your last day on earth, how would you spend it? At a wine tasting event.  You can't beat a good Rioja!
Do you read the newspapers or watch TV? I would love to have the time! With my two daughters swimming four times a week, I spend most of my time at the pool.
Do you have an embarrassing moment you'd like to share? I once came to work wearing odd boots, but I had only a few hours sleep as my daughters had kept me awake all night!
What's your proudest business moment? Not the day mentioned above!!
On a weekend, are you an early alarm or lie-in?  I would love a lie in, but my 7-year-old has other ideas!
What's your favourite weekend activity?  A night out, preferably at a chilled-out wine bar.
Are you a home cook or a take-away fiend?  I am so lucky; my husband loves to cook, so I just sit down and enjoy what he has prepared!
//