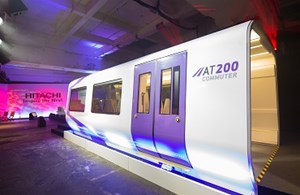 Hob's bid and proposal specialists, TeamTender, helped create and execute the spectacular launch event for Hitachi's new AT100 and AT200 electric commuter trains.
Hitachi launched their new AT100 and AT200 series electric commuter trains at a dramatic and exclusive event on the 21st July. Hob's bid and proposal specialists, TeamTender, helped create and execute the spectacular launch event.  TeamTender worked tirelessly to produce branding artwork, design brochures, and print various displays and graphics, which were all on display at the event. There was even a 3D printed train section.
Most importantly, the logo and branding for the new trains was designed within TeamTender and will be used on all the literature and marketing materials going forward across the UK and Europe.
Hitachi chose a derelict building on New Oxford Street for the event, which was brought to life with life-size train carriage models, unveiled with music and pyrotechnics.  During the launch event, the logo was projected, via moving go-bo lights, onto the floor, big banners and onto the trains themselves.
These new trains will be used all over the UK, and with different models for different types of journey length they'll be reaching top speeds of between 160km/h to 250 km/h.
Kendra Ayling (Brand and Marketing Specialist at Hitachi Rail Europe) commented: "Hobs have demonstrated their wide range of capabilities and we have been very impressed by how TeamTender have seamlessly woven the various elements into a cohesive solution.  We asked Hobs to design the logo for the train series as we know they understand our brand and we work closely with the team so they form an extension of our team here – we wouldn't be able to do this if we didn't have total trust in their ability and passion to deliver to our standards. Our launch events have to be extra-special and Team Tender ensured this event was the highlight of our calendar."
Richard Dickens / Dave McCormack, Hobs TeamTender, commented "Such a major launch requires confidence in the ability to deliver 100% with the minimum of fuss.  We're delighted we've created such a strong business relationship with Hitachi and we hope to be supporting them in presenting their work for a very long time to come".