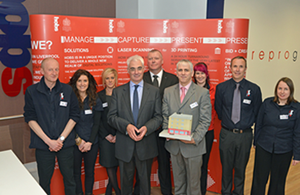 The Right Honourable Mr Alistair Darling, MP, Labour Member of Parliament for Edinburgh South West, officially opened the new Edinburgh office for Hobs Reprographics.
The Right Honourable Mr Alistair Darling, MP, Labour Member of Parliament for Edinburgh South West, presided over the officially opening of the new Hobs Edinburgh office for Hobs Repro on Wednesday 29th January.
Hobs Edinburgh originally opened in Melville Street in 2004 with just three staff. It's new premises in Morrison Street, in the heart of the west end, has 3,000 sq ft, to cater for a client base with an expanding need for new services.
Mr Darling was given a tour of the new office, including the latest 3D print technology, and saw some of the complex objects which can be printed, including a 3D model of the new office. The 3D printed model was created using a 3D Laser Scan of the new premises which was originally used to help design the internal layout.
Mr Alistair Darling said: "I was pleased to officially open Hobs' new office, which is an example of a thriving and expanding business, investing in Edinburgh, which will have a positive effect on the local economy. During my visit I was impressed by the enthusiasm of the members of staff, who play an important role in contributing towards a successful business."
Hobs Edinburgh caters for a variety of clients, both independents and large corporations, across multiple industry sectors, particularly in the AEC, Energy and legal sectors. Hobs' expansion in Edinburgh is largely due to the ongoing boost in the Energy sector, as the city provides an amazing backdrop to some of Europe's largest Renewable Energy companies. The new office is extremely visible, which should also attract business from the student population as well as the general public.
Commenting on the launch, Stephen Lacey, Director for Hobs Edinburgh said, 'We are thrilled that Alistair Darling was able to officially open our new office and are really excited about the future for our business. Our plan is to continue the current growth, providing an excellent service to our clients, and to continue building on the huge potential of 3D printing and Augmented Reality'.
The new office will complement other planned developments in the area including development of the Morrison Street goods yard site and the continued growth of the nearby Exchange financial district.
The Edinburgh team always provide a warm welcome so if you're in the area pop in and see the new location. If you're one of the hundreds of people that have already visited, let us know what you think at the Google+ page for Hobs Edinburgh.
Pictured from Left to right: Iain Kennedy, Cheryl Jones, Yvonne Napier, Alistair Darling, Ian Wilson, Mark McKail (holding the 3D printed model), Kayley Holdham, Stuart Jones and Caroline Smith.