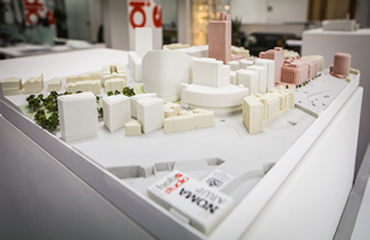 To mark the arrival of the new studio in Manchester's Northern Quarter, two one-off models of Old Trafford and the Etihad Stadium have been produced to give away in a competition.
Hobs Studio has opened in central Manchester in response to the rising demand from architects, engineers, medical product developers and media designers for 3D technology.
To mark the arrival of Hobs Studio Manchester, based in the Northern Quarter, two one-off models of Old Trafford and the Etihad Stadium have been produced to give away in a competition.
The 250mm wide and 75mm high models have a value of around £1,000 each.
The unique replicas, show the iconic grounds in remarkable detail and will be a fantastic collector's item for City and United fans alike. Details on how to enter the competition are at the bottom of the page.
Hobs Studio Manchester is the first of its kind in the region and uniquely brings together all the 3D services including 3D scanning and modelling, augmented reality and virtual reality.
With a £250,000 investment the 3D printing hub is on the 6,000 sq ft site of the MPG printing business, on Dale Street. Since acquiring MPG in January 2013, Hobs have continued to support and drive both the product offering and overall client satisfaction and the time was right to introduce Hobs Studio concept to Manchester, Dale Street.
Hobs Chief Executive Kieran O'Brien said: 'What puts Hobs Studio in a league of its own is that at present no other company offers all these very relevant services under one roof. The launch of Hobs Studio will bring huge benefits to designers, architects and product developers who need to produce 3D models."
He added: "With our new hub, 3D models can be produced right at the beginning of a development, complete with internal 3D models and landscaping if required, saving clients valuable time and money."
Hobs has recruited Andrew Conley to run the Hobs Studio in Manchester. He is regarded as one of Britain's foremost 3D model makers, having worked on the new Wembley Stadium for Foster & Partners, among other key schemes.
He said: "I am looking forward to combining my knowledge of traditional model making with the speed and efficiency of 3D printing to draw on the best of both worlds in 3D modelling."
The existing 3D printing services in London will relocate to a new location in the next few months and again combine all the 3D services in one location.
The Dale Street location will continue to look after the existing 2D reprographics requirements, and the Hobs Studio creates the opportunity for providing an increasingly valuable and broadening range of reprographic services that complete the lifecycle of any building project.
The competition to win a stadium is being run through the Manchester Evening News and closes on the 12th January 2014. You can read their full article and enter the competition via the link: Click Here